Blair Bruidhinn, Clan Blair Society Newsletter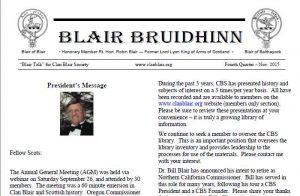 Blair Bruidhinn is published once a quarter, and emailed to our members worldwide. Articles include CBS news, historical study, genealogy, state activities, and member interest.
News articles are written by a wide variety of people of the membership of Clan Blair. A regular genealogy column and queries and answers column appear each quarter. Recipes are also published and shared with the membership.
Updates of books and other source material added to the Clan library archives in Moultry, GA (Odom Library) keep the membership up to date on resources.
Blair Bruidhinn is published through the efforts of Clan Editor Adoree Blair and Jim Blair.  Much appreciation goes out to the Blair Bruidhinn editor and publisher, Adoree Blair of Colorado.
To contribute to the newsletter, send a message to Adoree from our contact page.
Members can access electronic versions of the newsletter within the Members Only section of the Clan Blair website.
The Fourth Quarter 2015 Newsletter is accessible from this web page.
Click on the link below to view it.
If you don't have the Adobe(R) Acrobat(R); viewer
you can download it free from Adobe(R).

---
A Special Thank You
The Clan Blair Society and our Officers want to thank our state and regional clan commissioners for their passion and participation in many of the Scottish Highland Festivals and Celtic events around the country, and world. Some have been hosting the Clan Blair Society tent at games for up to two decades!
Show your appreciation and lend a hand by attending an event close to you that has one of our commissioners hosting the clan tent. Drop them a note thanking them for their time and energy, from our commissioners page. If there isn't a commissioner in your area, we'd be excited to get you started in hosting a Clan Blair tent. Contact the High Commissioner (William Blair, OR) to learn more on how to get started.