Documented Arms of the Primary Blair Families in Scotland
Historically, heraldic arms have been regulated and awarded to indviduals in Scotland.  It is illegal for individuals to use arms that haven't been awarded to them in Scotland. The arms shown below are renderings from historically documented arms awarded to Blairs in the past. These are being displayed here for educational purposes.
"Cadet" branches (2nd, 3rd son, etc) of the families may have arms that have been awarded that are similar to these but with "differences". Differences are usually modifications on the shield, the helmet, or the crest which lies on the top of the arms.
You may encounter people or businesses selling "family" arms.  There is no such thing!  And often the histories that they publish are also generic and may not be complete or correct.  Buyer beware. Take them with a grain of salt.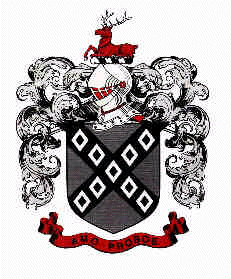 These Arms are found throughout Renfrewshire, Ayrshire,
Wigtownshire, and Dumfrieshire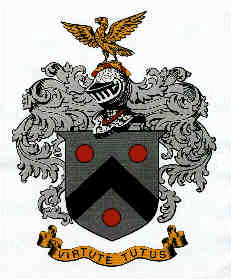 These Arms are found throughout Perthshire
---
There is a representation of a Coat of Arms of a branch of Blair of that Ilk of Southwest Scotland. These actual arms were found on a gravestone in Antrim, Ireland. Note the crescents on each side, the star at the top, and the garb at the bottom. These would have been added by a descendant of Blair of that Ilk to separate him/her from the main family. The saltier cross with the nine mascles would indicate that this Blair was a descendant of the house of Blair of that Ilk. The crest, in this case the stag lodged proper, could vary on the arms as well.

Other crests that exist for Blair of that Ilk descendants is a stag's head cabossed, or a Boar's head couped. Typical crests for Blair of Balthayock descendants are a dove, wings expanded, an eagle rising, or a Roman head armed. Another crest found on Blair arms is a garb.

Other arms for Blairs have the primary shield combined with that of another. An example is the Blair of that Ilk shield impaled with the Hamilton that can be found on the main front door of the Blair House in Dalry, Scotland. Inside, on the fireplaces, the Blair arms are quartered with the Scott family arms. This type of combining represents the joining of two families. The Blair of Balthayock arms can be found combined in the same manner.

Amo probos
(I Love The Virtuous)

Blair of Balthayock

Virtute tutus
(By Virtue Safe)
. . . .
Registered Tartans of the Clan Blair Society

Blair Ancient




Blair Modern




Blair Dress